A South African comedian Trevor Noah to produce a movie featuring an 8 year old Nigerian chess champion.
South African comedian and host of American talk show, The Daily Show, Trevor Noah, is developing a film about the eight-year-old Nigerian chess prodigy, Tanitoluwa Adewumi.
Adewumi's story broke the internet in March after he was profiled by the New York Times for winning the state's chess championship.
The boy won the state tournament from kindergarten through third grade after reportedly fleeing Boko Haram attacks in Nigeria.
Noah will produce the film under his Day Zero Productions imprint alongside business partner, Haroon Salem.
Named as producers on the project are State Street Pictures and Mainstay Entertainment.
The film has also been acquired by Paramount Studios.
Adewumi had only been playing chess for a year when he won the New York State Scholastic Chess Championship in 2018.
He learned to play chess from a teacher at school.
The plot of the film centres on the Adewumi family's survival story of seeking asylum only to become homeless in New York, and the lengths that parents would go for their children.
After their story began spreading on social media, the family got donations of over $250,000 through GoFundMe.
The film's script would be adapted from a trio of books on the family, which would be released through HarperCollins' W Publishing imprint in 2020.
Source: Opera news/Movies
I have never had a boyfriend who abandoned me – Nollywood Actress Moyo Lawal brags.
Nollywood actress Moyo Lawal is out here sharing a little bit about her personal life.
Taking to her IG page, the curvy actress revealed to her fans that she has never been dumped by any of the men she dated in the past.
In her words;
I have never had a boyfriend who left me …… does that give me a bragging right (even if he walks away in anger , he will still walk back to beg ) ….. …….. …. p.s I have just never been able to forgive a wrong done … …… #ThatConcreteRose #Moyoorfierce #ML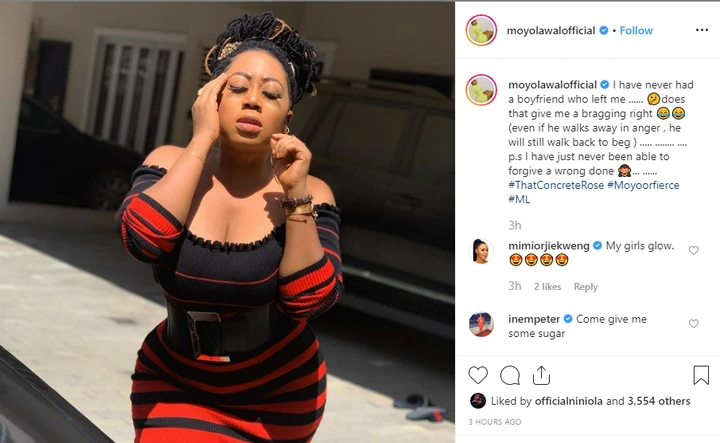 Moyo Lawal
Source: Informationng
If a movie director hasn't asked to sleep with you then something is wrong with you – Actress Vicky Zugah.
Ghanaian actress, Vicky Zugah who recently went through a deliverance process for snatching the husband of a lady who placed a curse on her, has shared her thoughts on sexual harassment in the Ghanaian movie industry.
In an interview with Naa Ashorkor on Joy FM, Vicky Zugah said sexual harassment is indeed witnessed in the Ghanaian movie industry and desperate upcoming actresses easily give in to sexual advances from movie producers and directors.
She added that if an actress has not been asked out by any movie producer or director, then something is wrong with her.
" Sex for roles in the movie industry is very real. I won't lie about. It's happened, it's happening and it will happen again tomorrow and it's normal.

"If you are a woman and you are in the industry and no one is asking you out like a producer, a director or someone who is in charge isn't asking you for sex then there is something wrong with you" Vicky Zugah said.
Source: Lindaikejisblog 
Nollywood actress Angela Okorie reveals how her son died and returned back to life.
Nollywood Actress Angela Okorie has taken to social media to gush about her son who will be celebrating his birthday in a day's time.
In a post she shared, Angela Okorie touched on how her son died and came back to life, which makes her believe he's special.
"My baby's birthday
In 2days , September5th
I can't wait to tell the world
How u came forth
My covenant with God
Why you are untouchable
How you @realkingchamberline died and came back to life ,
The world dont know you are a Miracle child.
They don't know b4 you were conceived
He knows your name KASIEMOBI Chamberline
I will be forever grateful to God almighty
I will worship him Forever
He is the reason we are still Alive
Someone dare sent a death sentence
To my son , that died when jesus died?
And came back to life when he resurrected
Its 7days they gave
They are going to be disgraced and removed from
The surface of the earth in 7 days
As long as God lives we shall continue to live.
You are blessed son".
Just yesterday, Angela Okorie was on social media reacting to a death threat issued to her son by an anonymous person after she accused actress Mercy Johnson of witchcraft.
Source: kemifilani.ng